Impact
Your support has a significant impact beyond the amount of your contribution. Firstly, the financial value of your donation can be multiplied whenever applicable. Secondly, your support motivates our scientists and spurs them on to ever greater achievements. Learn more what donors intend and how scientists put this support to use.
Donors
Peter Bertalanffy, Bertalanffy Foundation Building: "I like the idea behind this institute: The aim to bring some of the best researchers in the world to Austria, the complete independence from all political and economic interests, and the professional exploitation of scientific discoveries. I think all of these are essential cornerstones for a world-class institute of basic research."
Markus Reinhardt (NOMIS Foundation), NOMIS Grant for Professors Giorgios Katsaros and Johannes Fink: "A reason for our commitment is the excellent scientific environment IST Austria offers to basic researchers."
Klaus Pöttinger, Pöttinger Scholars: "Austrians are proud of the scientific and technical advances of the past. It is our generation's task to provide the future generation with the opportunity to further develop the scientific and technical innovations of the future―and thus to strengthen pride in these achievements. This is the reason why I have made the decision to support IST Austria's doctoral program as a private donor."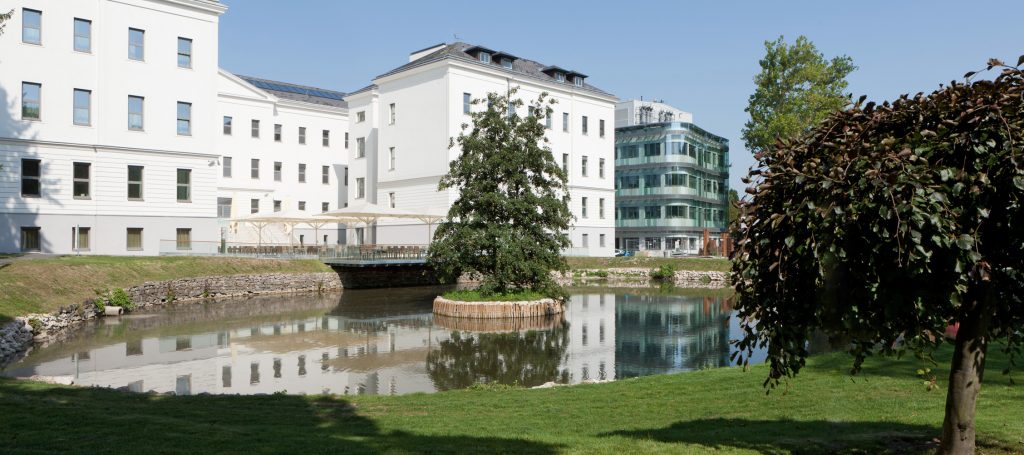 Researchers
Johannes Fink and Georgios Katsaros: "The generous support through the NOMIS Foundation enables us to combine two distinct fields of quantum physics to one unified approach and provides us with the opportunity to focus on new research questions. The knowledge we are able to generate with this project could have far-reaching consequences for the field of quantum technology."
The NOMIS Foundation supports the "Hybrid Semiconductor – Superconductor Quantum Devices" research project since Fall 2017. The project aims at developing novel types of hybrid devices consisting of a combination of semi- and superconductor elements, which may have the potential to serve as building blocks for future quantum computers. Learn more about this research project.
Gaia Novarino: "Worldwide, one in 59 children is affected by an Autism Spectrum Disorder. Research on the individual causes underlying these disorders is scarce in Europe, even less so in Austria. It is my aim to gain a better understanding of autism and to create a scientific basis on which individual therapies can be developed. To be able to help children today and in the future, I need your support."
Gaia Novarino is a Professor for Neuroscience at the ISTA and expert in the genetic and molecular mechanisms which underlie Autism Spectrum Disorders. Scientists understand the causes and development of Autism more and more. Genetic mutations appear to play a key role in the process. Learn more about Gaia Novarino's research.
Carl-Philipp Heisenberg: "World class research requires cutting-edge technology. The Bertalanffy Foundation Building offers a state-of-the-art infrastructure that allows us scientists to follow our research interests, work interdisciplinary and conduct excellent basic research."
The biologist Carl-Philipp Heisenberg studies the molecular and cellular mechanisms by which vertebrate embryos take shape. Conducting highly complex experiments, he depends on state-of-the-art equipment and laboratories. Learn more about Carl-Philipp Heisenberg's research.
ISTA Donors Club
Our active patrons (≥ € 10'000) constitute an exclusive club. As an appreciation of your support, a plaque with your name is mounted on our Wall of Honor on campus. You will regularly receive invitations to selected events with renowned scientists as well as to meetings with important members of the Institute and to exclusive briefings on the further development of ISTA.