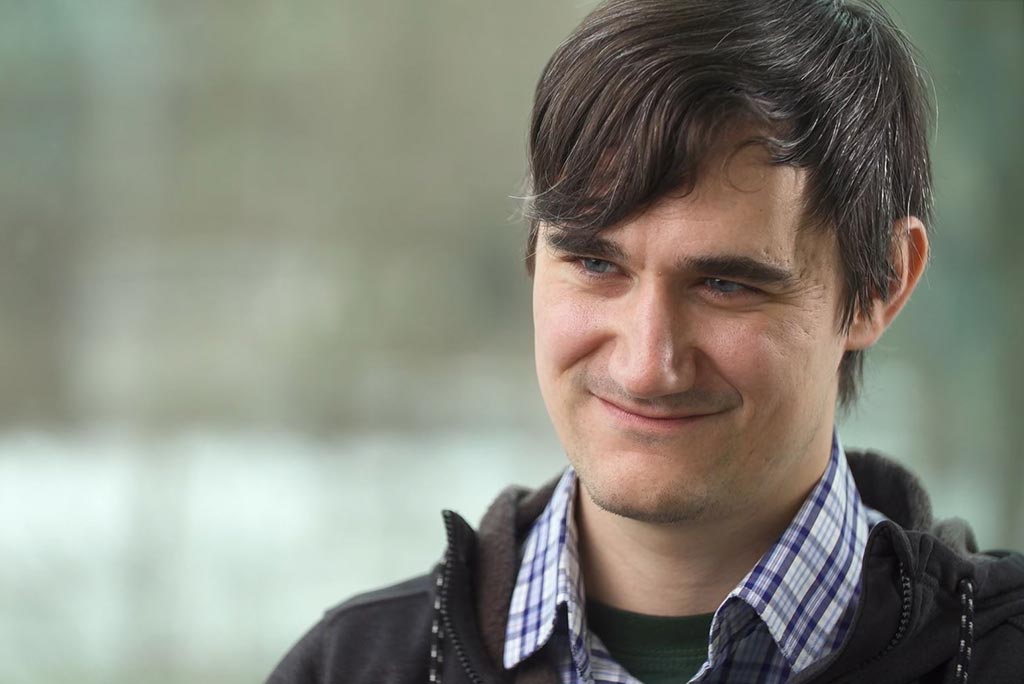 WHERE?
MAX PLANCK INSTITUTE FOR EVOLUTIONARY ANTHROPOLOGY, LEIPZIG, GERMANY
AREA OF WORK
GROUP LEADER
POPULATION GENETICS
ANCIENT DNA
COMPUTATIONAL GENOMICS
AT IST AUSTRIA
PHD STUDENT
NICK BARTON GROUP
Harald Ringbauer was a PhD student in the Nick Barton group. He is now a group leader at the Max Planck Institute for Evolutionary Anthropology, Leipzig. In January 2021 he visited the IST Austria campus to take a walk down memory lane and answer some questions about his work and career.
Watch the corresponding video on YouTube
WHAT'S WRITTEN ON YOUR BUSINESS CARD?
My business card right now says group leader at the Max Planck Institute for archaeogenetics in Leipzig, and I actually adjusted to get a new business card. Because up until now, I was doing a postdoc at Harvard, at the Harvard Medical School. I will actually keep my affiliation. So it will be a pretty cool business card.
WHAT'S THE ESSENCE OF YOUR JOB?
I'm an archaeogeneticist, which means that we get DNA from human remains who lived 1000s of years ago. And then, we look at how people moved around, how they're related, and their social structure. So we try to get insight into past movement into past mobility into past patterns, how we live together. The coolest thing is that you really get fascinating insights of people who lived like 1000s of years ago, and it's still mind-boggling for me. For instance, Ötzi: We have his whole genome, and you can really see to whom he is related and how he came there. We can see from which group he was if his parents were related. So, the coolest thing about my job is that you really get fascinating new insights into who these past people were.
The limitations are that, when we look at the human past, this is often a very emotionally very loaded topic. So often, even when you don't even think about it. When we only tell stories about past movements or stories about ancestry. People with certain agendas try to take these results and make an argument out of them. So you always have to be careful not to step on anyone's toes, and also to present it in a very sensible way.
WHERE DO YOU SEE YOURSELF IN THE FUTURE?
Totally in science. So normal will be for five years at the Max Planck Institute as a group leader. I hope to see myself in five years in Leipzig. And then beyond that: a career in science. Actually, long run, I like humans. They are very interesting for doing ancient DNA. But now we can also do ancient DNA on animals and dogs, on horses, and so on. So that would actually go full circle for the PhD doing genetic analysis, and I want to stay in that kind of topic.
WHAT'S YOUR SCIENTIFIC BACKGROUND?
In my bachelor's and master's, I did mathematics and physics at the University of Vienna, so actually very abstract. And then only at the IST, I came, I became more interested in actually population genetics, where you can actually apply these mathematical tools to population genetics, and then became more and more interested in actual data analysis. And so, in the US, I really dove deep into archaeogenetics. That's actually a very interesting story. Because before I started, I was actually thinking: history or mathematics. Because actually, I had a big interest in human history. But I chose mathematics. And I would not have guessed that, actually, by choosing to study mathematics, I would end up with an academic position in archaeology and human history. And it's really funny to see like this way of quantitative thinking and like this modeling is now actually very useful in really like figuring out, really old big archaeological questions about the human prehistory and also now about human history.
WHAT ROLE DID IST AUSTRIA PLAY IN YOUR CAREER?
It was the first time I came into contact with world-class population genetics. I was really lucky to have my supervisor Nick Barton, who is like a world-renowned expert, and I really came into contact with bleeding-edge science, like meeting the experts in the field. I got really good training in that and a lot of expertise. Up until now, I think this is the skill set and the network. I think that it is absolutely the key to my career.
GIVE THREE PIECES OF ADVICE TO CURRENT IST AUSTRIA MEMBERS
The first piece of advice is: Don't listen to advice. Go your own way. It's like sciences. There are many aspects. It's different for anyone, like it's different per field it is different per character. There are actually many paths to success, and everyone has to find their own way, tailored to their own strength.
But then the second one, you should actually listen to that one: hard work and patience. It's often not easy in science. You have to keep going. Everyone has good and bad days. It's totally normal to have bad days, but persistence is important.
The third one is: don't forget to have fun. You have to find a good balance. It was really good to play table soccer and getting everything out of the system. Most of us are not robots, and most of us, you know, work best when we have a good balance.
WHAT ARE YOUR FAVORITE MEMORIES OF IST AUSTRIA?
Great moments were certainly coming to the bridge after lunch and seeing everyone, my cohort, my international group of friends, having fun on the bridge having fun talking. So many fun moments: Playing table soccer, going to the sauna! All our retreats! Just sitting outside on the balcony. Coming back here to IST, it's actually all coming back to me. Actually, I am thinking of doing another PhD at IST. 😉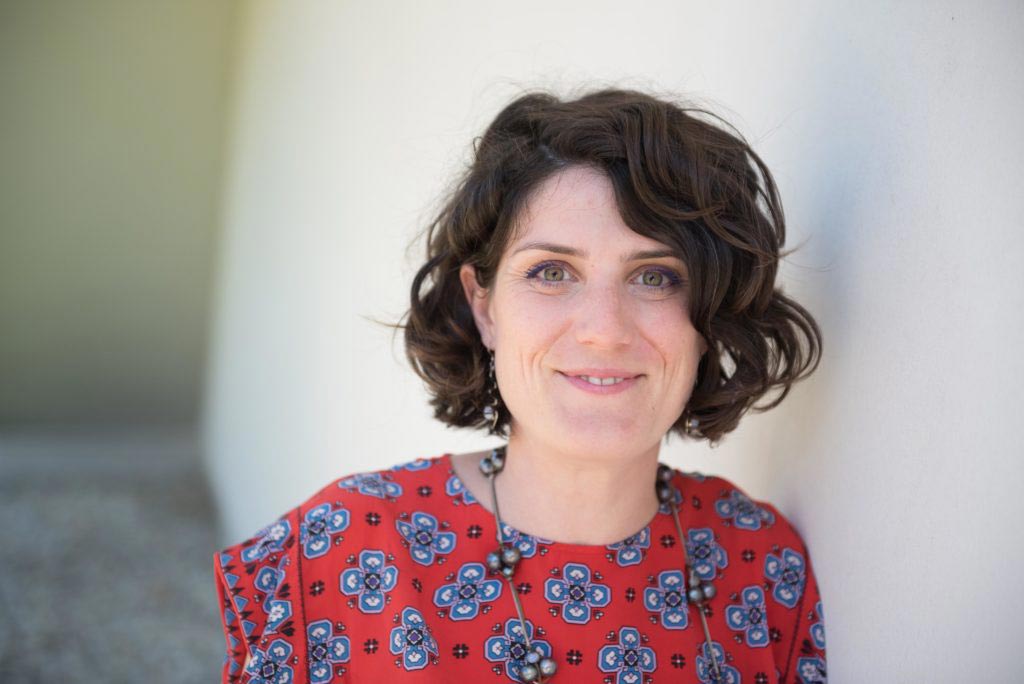 WHERE?
GENENTECH, USA
AREA OF WORK
RESEARCH GROUP LEADER,
BASIC RESEARCH
DRUG DISCOVERY
AT IST AUSTRIA
POSTDOC
2016
MICHAEL SIXT GROUP
Christine Moussion was a Postdoc at IST Austria. She now works as a group leader for Genentech in Califonia. At IST Austria Christine Moussion was in Michael Sixt's group.
In an interview with Daniela Klammer and Kathrin Pauser which took place during the Science and Industry Day 2018 she answered some interesting questions about her work and how her career developed.
Watch the corresponding video on YouTube
WHAT'S WRITTEN ON YOUR BUSINESS CARD?
On my business card is my first name and my last name, my position: I am a scientist in cancer immunology at Genentech in San Francisco, my address and my phone number. 😉
WHAT'S THE COOLEST THING ABOUT YOUR JOB?
I lead a research team in a big pharma company I work in basic science and in the same time I lead 3 to 4 people in the basic science and at the same time I do some drug discovery at the same time. I think the coolest thing about my job is it is all about science. Basic science or applied science so to develop new treatment and also that there is no limitation. So we can do whatever we want in term of support facilities money so I think it is really to have great science and great support.
WHERE DO YOU SEE YOURSELF IN THE FUTURE?
In the future I think I will go where the science will bring me. All I have worked for now is where I am happy to work on and I hope I can contribute to the development of new treatment for disease and at the same time make great basic science discoveries. And have fun in science.
WHAT'S YOUR ACADEMIC BACKGROUND?
I trained as a bioengineer in biotechnology and I worked for a short time in a start up in drug development. Then I came back to university because I decided to step back and to learn a new field which was immunology which I got very passionate about. So I did a PhD in immunology and a postdoc at IST Austria in Michael Sixt's lab. I worked at the migration of leucocytes and developed a new bio imaging technic and assets that I can now apply in my current job. So I looked at immune cells recruitment in tumor and how to stimulate the recruitment of this leucocytes to improve cancer immune therapy.
WHAT ROLE DID IST AUSTRIA PLAY IN YOUR CAREER?
IST Austria gave me the freedom to explore science the edges of science of my field like working at the interfaces between immunology and bio imaging for example. The platform of bioimaging is amazing and is always stimulating the progress, the development of new techniques. My mentor played the biggest role. He gave me freedom and he gave me support in terms of looking for jobs by connecting with his network and confidence.
IST was my first international experience. So I learned English here because I came from France. So now that I am living in the US the Americans say that I am speaking with a German accent. I am not sure about that I think I still have a strong French accent. Here I connected with a different type of culture and a different kind of science, really multidisciplinary, so I connected with Mathematicians or physicists and that's what I liked at IST.
GIVE THREE PIECES OF ADVICE TO CURRENT IST AUSTRIA MEMBERS
If I rely on my experience I would say: follow the science. See where the science will bring you. But take action you are the actor of your career. You have to make decisions if you need to step back if you need to change direction. You have to keep being proactive. Work hard surely for papers. Papers can get you everywhere. Go to conferences, connect to the leaders in your field to see where your field is moving and it's also easier if you want to work in industry if you already know people working there. So if people know you and they know your way of thinking and the science you want to develop it is easier to get in later on. Chose a good mentor, a supportive mentor is crucial for a great future job.
WHAT'S YOUR FAVORITE MEMORY OF IST AUSTRIA?
I have two probably. When I was living in the guest house and also later I was able to cook French recipes and I was able to share French food with my colleges and I could learn recipes from different cuisine like Indian and I loved that a lot. And I also loved the postdoc retreat when we were going to the mountain for skiing. I think that were the two moments where I connected and I made really good friends, really strong connections. So that is probably my favorite moment at IST.
Congratulations to IST Austria alumnus Johannes Reiter, who has been awarded the Young Scientist Award by the Austrian Scientists & Scholars in North America (ASCINA)! Nowadays, Johannes is leading his group at Stanford 'Translational Cancer Evolution Laboratory'!
Former PhD Student Dora Tarlungeanu received a Life Science PhD Award Austria 2018 for her dissertation. Funded by Polymun Scientific and THP Medical Products, the annual prizes are granted by the Austrian Association of Molecular Life Sciences and Biotechnology (ÖGMBT) for excellent PhD theses in basic and applied science. The award ceremony was held at the 10th ÖGMBT Annual Meeting last month in Vienna and was followed by Dora's ÖGMBT Lecture on "The Branched Chain Amino Acids in Autism Spectrum Disorders".
More information at https://www.oegmbt.at/preise/dissertationspreise
Johannes Reiter was a PhD student in the Chatterjee group. After graduating he moved to Harvard University, where he was a postdoctoral fellow in Martin Nowak's group in the Program for Evolutionary Dynamics. In June 2017 he took a position as an instructor at Stanford University. In his research, he develops algorithms and mathematical models to study biological processes, in particular those related to the evolution and treatment of cancer. His research on metastases is funded by an Erwin Schrödinger Fellowship of the Austrian Science Fund (FWF).
Johannes will talk about his research and how his career developed so far after IST Austria.
Tuesday 9th of October 2018, Ballroom
5pm : Scientific talk / 5:30pm : Q&A session about career development / 6pm : Refreshments
The IST Alumni duckies have arrived. From now on everyone finishing the PhD at IST Austria can pick up one of these cute duckies from the alumni office.
Also if you already have a PhD from IST and you would like to have a duckie give me a shout!
If you are a postdoc alumni we have a present for you too! Please come by the alumni office for your farewell interview and pick up your IST alumni flashlight!
On Friday, June 29, the Institute of Science and Technology (IST Austria) celebrated 18 new graduates of the Institute's PhD program. This is the largest class yet, and brings the total number of PhD alumni to 50—a large number for a young institute. After years of dedication, learning, and independent research, these new alumni will go on to pursue careers in academia, industry, and education.
Check out the pictures of this great event.
Each year the IST BBQ is a special occasion for IST members and their families. This year IST Austria is happy to announce that as an IST Austria alumni you and your family are invited to join the IST BBQ as guests of the alumni initiative.
We want to welcome you back to campus with a special alumni champagne reception with our President Tom Henzinger before the official opening of the BBQ. Afterwards you can mingle with the general IST crowd.
When? June 14th, 2018 4.15 – 4.45 (official opening BBQ at 5 pm)
Where? Terrace Cafeteria
Please register by email to kathrin.pauser@ist.ac.at by June 1st at the latest if you (and your guests) will attend. Please note that registration is mandatory!
Program IST BBQ
Welcome by Georg Schneider, Raiffeisen Lecture HallIST Golden Chalk Best Lecturer Award /IST Golden Sponge Best Teaching Assistant Award, Raiffeisen Lecture Hall
IST Excellent Performance Award Admin/SSU, Raiffeisen Lecture Hall
Music by DJ Norbert, Guest House Lobby
Last public bus back to Heiligenstadt
Science Outreach Activities 2018
This year, IST Austria will host two science festivals and two science camps for children on campus. The "Lange Nacht der Forschung" on April 13 will give visitors the opportunity to find out more about the research conducted by scientific institutions from Lower Austria. Open Campus on May 27 will allow adults and children eager for knowledge to explore science in a hands-on exhibition, go on campus and laboratory tours, and take part in a diverse children's program. The "Sommer – campus" on August 20-24 will encourage primary school children to engage in science and art. Last but not least, "Top Models in Science" on August 27-29 will teach teenagers how to use mathematical and computer models.