Dec 13, 2023
The global re-shuffling of species
Date: December 13, 2023 | 5:00 pm – 6:00 pm
Speaker: Franz Essl, University of Vienna
Location: Moonstone Seminar Center
Language: English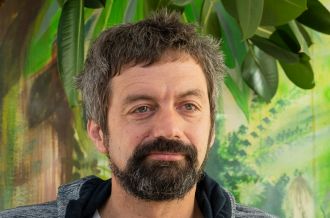 Welcome to the Anthropocene! For the first time in planetary history, one species has become the dominating biophysical force. Consequently, humans are driving the redistribution of biota at an unprecedented scale, with enormous and rising consequences – for the future of biodiversity and human livelihoods alike. While many species are declining and heading towards extinction, other species are being moved around the globe by humans, essentially changing global biogeography. This human-induced introduction of species into new regions – so called biological invasions – have become a defining signature of the Anthropocene.
In his talk, Professor Essl will synthesize key insights into global patterns and drivers of biological invasions. He will highlight likely future trajectories of this phenomenon, present main advances in invasion science, and identify new avenues to improve the understanding of alien species spread and impacts. Finally, he will provide a perspective on priority questions for biogeography and biodiversity conservation resulting from the global re-shuffling of species.
Bio
Professor Essl's work is centered at the crossroads of Invasion Science, Macroecology, Biogeography and Conservation Biology, with a strong focus on human-environment interactions. He teaches at the Department of Botany and Biodiversity Research at the University of Vienna, and he was elected Austrian Scientist of the Year 2022 by the Klub der Bildungs- und Wissenschaftsjournalisten (Club of Education and Science Journalists). He has published more than 300 publications and his work has been recognized by including him in the list of "Highly Cited Scientists" by Clarivate since 2018.
VISTA Science Experiences
In addition to the talk of Professor Essl, VISTA Science Experiences offers extra programming:
ISTA Lecture Young Science Lounge
Interested high school students (14 years and older) are welcome to sign up for the Young Lounge where they can meet the speaker ahead of the lecture in an informal setting.
More information at: https://www.vistascience.at/en/event/ista-lecture-young-lounge-franz-essl/
POP-UP Exhibition: TURNING THE ECOLOGICAL GEARS
VISTA currently presents a pop-up exhibition by interdisciplinary designer Sophie Falkeis and The Encounters Lab, revolving all around Species Redistribution Ecology. The installation temporarily resides inside a prospective Electron Microscopy Lab inside the new Moonstone Building and will be open from 6PM to 8PM for visits and further conversations.
Photo © Thomas Lehmann