eMachine Shop Equipment
Mixed Signal Digital Storage Oscilloscope Hameg HMO3524
The Hameg HMO3524 Mixed Signal Digital Storage Oscilloscope provides 350MHz bandwith, 4GSa/s sampling rate and a storage depth of 2MB per channel. It has 4 analog and 16 digital inputs each of which with a minimum sensitivity of 1mV/div and an input impedance of 1MΩ.
Specifications:
Sensitivity: 1mV/div 5V/div (1-2-5 increments)
Input Coupling: AC, DC & Ground
Input Impdance: 1 MΩ, 13pF (50Ω switchable)
Maximum Input: 200V (DC + peak AC), 5V (50Ω)
Waveform Signal Process: +, -, 1/x, ABS, MUL, DIV, SW, POS, NEG, INV
Bandwidth Limit: 350 MHz [5mV … 5V]/div; 100 MH [1mV, 2mV]/div
Trigger Sources: CH1, CH2, Line, EXT (CH3, CH4)
Horizontal Range: 1 ns/iv 20 ms/div; ROLL: 50ms/div ~ 50s/div
Voltage Measurement: V pp V amp V avg V rms Vhi Vlo V max V min, Rise Preshoot/Overshoot, Fall Preeshoot/Overshoot
Time Measurement: Frequency, Period, Rise Time, Fall Time •Cursors Measurement: Voltage difference between cursors (ΔV) Time difference between cursors (ΔT)
---
Spectrum Analyser Hameg HMS3010
This 3GHz spectrum analyser has a frequency range from 100kHz to 3GHz and a resolution of 1Hz. Sweep times can be adjusted between 20ms and 1000s.
Specifications:
Resolution: 1Hz
Sweep Time (Span < 1Hz): 20mx → 1000s, min. 20ms/600MHz
Display Range: 80 db, 40 db, 20 db, 10 db, linear
Amplitude Measurement Range: -114 dbM → +20 dbM
Maximum Voltage at input: 80 Vdc
Input impedance: 50Ω
Number of markers: 8
Marker functions: peak, next peak, min, center, reference level, all on peak
Connection: N socket (50Ω)
---
Spectrum Analyser Aaronia Spectran NF-5035
Channel Count 1
Frequency Range DC – 20MHz
---
Arbitrary Function Generator Hameg HMF2550
The Hameg HMF2550 Arbitrary Function Generator can produce sine, square, pulse, triangle, ramp and arbitrary incl. standard curves. With a frequency range from 10µHz to 50MHz and <8ns rise and fall times it can be used in a variety of setups.
Specifications:
Output Voltage: 50MV à 10Vss
Input Impedance: 5kΩ
Output Impedance: 50Ω
Frequency Range Sinewave: 10µHZ à 50MHz
Frequency Range Square Pulse and Arbitrary Waveform: 10µHZ à 25MHz
Frequency Range Triangle/Saw: 10µHZ à 10MHz
Rise and Fall time: <8ns
---
Arbitrary Laboratory Power Supply Hameg HMF4040
The Hameg HMF4040 Arbitrary Laboratory Power Supply features 4 0-32V,0-10A outputs with a maximum of 384W. Minimal voltage resolution is 1mV and the residual ripple is smaller than 150µVrms. Each channel can be programmed with an overvoltage/overcurrent protection.
Specifications:
Number of Outputs: 4
Output Connector: 4 mm Safety Socket (banana plug)
Output Current: 0 à 10A
Output Voltage: 0 à 32V
Voltage Accuracy: <0.05% + 5 MV (typ. ± 2MV)
Current Accuracy: <0.1% + 5 MA (typ. ± 1MA at I<500 mA)
---
Programmable Counter Hameg HM8123
The Hameg HM8123 3Ghz Programmable Counter has two BNC and one SMA inputs with a total frequency range from 0Hz to 3GHz. Input impedace is 1MΩ for the BNC input and 50Ω for the SMA input.
Specifications:
Number of Outputs: 4
Output Connector: 4 mm Safety Socket (banana plug)
Output Current: 0 à 10A •Output Voltage: 0 à 32V
Voltage Accuracy: <0.05% + 5 MV (typ. ± 2MV)
Current Accuracy: <0.1% + 5 MA (typ. ± 1MA at I<500 mA)
---
LCR Bridge Hameg HM8118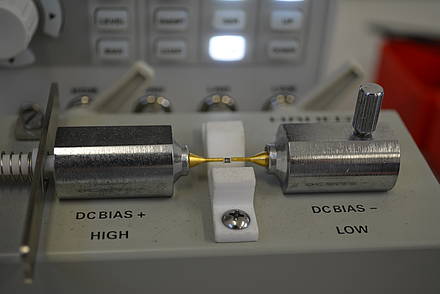 Channel Count 1
Measureands R, L, C
---
Precision Multimeter Tektronix DMM4050
Digit Count 6,5
Measureands U, I, R
---
3D CNC Drilling/Milling machine Kosy 3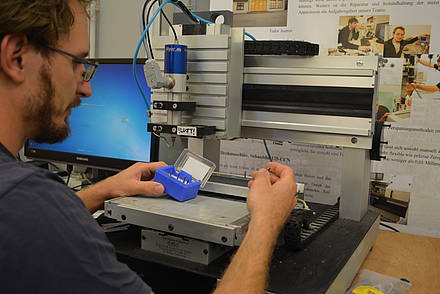 Working Range X=250mm Y=150mm Z=6 mm
Accuracy 0,010 mm