E-Beam and Optical Lithography
Electron Beam Lithography (EBL)
RAITH EBPG5150 EBL
The EBPG5150 electron beam lithography system is designed for high-resolution and high-accuracy patterning of devices on semiconductor wafers. Highly focused electron beams are used to draw circuit patterns on the nanometer scale onto semiconductor wafers coated with resists.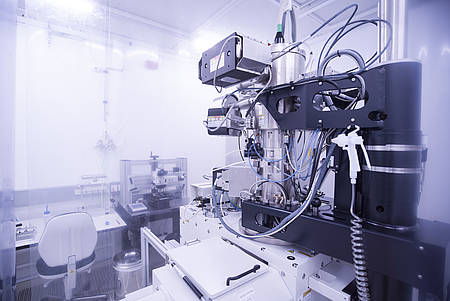 High current density Thermal Field Emission gun for operation at 20-100 kV
155 mm platform
Minimum feature size of less than 8 nm
Rapid exposure with 50 or 100 MHz pattern generator
Continuously variable large field size operation to 1 mm at all kVs
GUI for ease of use operation for diverse "multi user environment"
Thermal Field Emission (TFE) electron source
Automatic dynamic off-axis focus, stigmation and distortion correction software
Low noise 20-bit main field deflection
Field size operation, variable up to 1mm by 1mm at all voltages
Binocular microscope, X/Y stage and Laser Height sensor to pre-align wafers
System control software suite "BEAMS" on fully integrated control PC.
User Support and Scientific Advice:
Responsible: Salvatore Bagiante salvatore.bagiante@ist.ac.at
substitute: Juan Luis Aguilera juan.aguilera@ist.ac.at
---
Mask Aligner
EVG 610 Mask Aligner
The EVG 610 is a semi-automated system that can handle small substrate pieces and wafers up to 200 mm. The tool supports lithography processes, such as vacuum-, soft-, hard- and proximity exposure mode.
Supports back side lithography and bond alignment processes when configured with bottom side microscopes
Sub-micron exposure gap repeatability in proximity exposure mode
Unmatched exposure light uniformity at wafer level, down to ± 1.5% for small substrate applications
Windows based user interface
User Support and Scientific Advice:
Responsible:
Jack Merrin jack.merrin@ist.ac.at
Bruno Magalhaes bmartins@ist.ac.at