July 1, 2022
A Donation for Eternity
€25,000,000 by Magdalena Walz
Recently, 25 million Euro were bequeathed to the Institute of Science and Technology Austria (ISTA) in a will. President Thomas A. Henzinger tells the story of an impressive woman who believed in ISTA's vision.
At the end of last year, we learned that a widow who lived in Perchtoldsdorf near Vienna, Magdalena Walz, left us her entire estate: 25 million Euro! This came as a complete surprise to us and it is by far the largest donation in the history of our institute. In 2010, we received 10 million Euro from Peter Bertalanffy, and we named our first laboratory building after him.
Who was Magdalena Walz?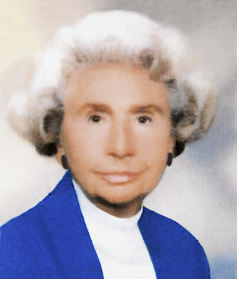 Magdalena Walz not only left us a considerable sum of money, but also has an interesting life story: She grew up in humble conditions in a municipal building in Grillgasse in Vienna's 11th district Simmering. She lived there with her parents and siblings until she turned 18 in 1944. Her father was a railwayman and, as far as we know, there was no affinity for research and science in the family. Around this time, she met and married Walter Ploberger, the founder of the building materials company of the same name. After his death in 1962, she took over his company and continued to run it as a successful entrepreneur. What an achievement! What can be said with certainty is that she focused throughout her life on hard work, had great interest in technology, and was very achievement-oriented. A nice parallel to us. By the way, the name Walz comes from her second husband.
"That's the beauty of it: with her donation she has created something for eternity."
What prompted Magdalena Walz to bequeath all her assets to ISTA?
Her tax advisor, Thomas Wilhelm working at EY, recommended us to her. Magdalena Walz was a philanthropist, it was important to her to give something back to society and to invest sustainably. As a native of Klosterneuburg, Mr. Wilhelm knows our institute well, originally from long-ago visits to the annual Open Campus with his children – we have been in sporadic contact with him for a long time. He suggested ISTA and the idea behind it to Mrs. Walz more than eight years ago on his own initiative and with utmost conviction. Both have maintained absolute discretion. In fact, we only learned about the estate when Mrs. Walz had already passed away. The fact that someone bequeathed us their entire fortune, worth 25 million Euro, is an extremely strong statement. She firmly believed in this project of ours. This not only makes me incredibly happy, it is also one of the best compliments we have received since the institute was founded.
Did Magdalena Walz ever visit ISTA?
As far as we know, she never visited ISTA, at least not officially. What I am sorry about is that I never met her in person. There is some speculation that she visited the campus incognito. In any case, she was very knowledgeable about our institute and our development was close to her heart. We know this because many of our annual reports from recent years were found in her house. And you know where? In a cupboard near her bedroom. This closeness is almost a declaration of love.
Thanks to Magdalena Walz, ISTA has its first named professorship. What is this?
That's the beauty of it: with her donation she has created something for eternity. We just established a named professorship in her honor, the Magdalena Walz Professorship. The first "Magdalena Walz Professor for Life Sciences" at our institute is Peter Jonas, an internationally renowned neuroscientist who studies synapses in the brain. It was important to Magdalena Walz that her donation is used to advance the life sciences. At ISTA her name will live on far beyond her death and be associated forever with world-class research in the life sciences. Indeed, after Peter Jonas retires, the Magdalena Walz Professorship for Life Sciences will pass on to another prominent researcher at ISTA. Through her generous donation, Magdalena Walz supported not only excellence in research, but created also a memorial for herself. And who knows: one day a Magdalena Walz Professor may receive the Nobel Prize.
What are the further plans?
What has always been common practice at U.S. universities, we are just beginning: To ensure the long-term excellence and independence of our institute through diverse support via intelligent, performance-oriented philanthropy. Magdalena Walz's donation shows that we are succeeding in breaking new ground in Austria, not only in research but also in research funding. Just last month, we launched an ambitious capital campaign. You might say that we already have experience in this: After all, fundraising requires as much endurance as basic research – in both endeavors, you never know if and when an effort will work out. Yet, it can only work out if you make the unpredictable possible through hard work and careful preparation.
Capital Campaign: The fundraising campaign "Be a Giant" that launched in June 2022 aims to build up an endowment of 100 million Euro over the next five years. An endowment is a professionally invested capital stock, the proceeds of which will help fund basic research and education at ISTA over the long term. US universities such as Stanford University and other international institutions such as ETH Zurich, Switzerland, and the Weizmann Institute of Science, Israel, serve as models for this funding structure. All donations are matched by the federal budget. With the donation from entrepreneur Magdalena Walz, a quarter of the Capital Campaign's planned amount has been secured in one fell swoop.
Contact and consulting:
Stakeholder Relations
Email: beagiant@ist.ac.at
Tel: +43 2243 9000-1006