September 16, 2022
Education Initiative Honors Afghan Graduates
Graduation Ceremony of the Association IGASuS – Integration Through Education in the Hall of the ÖAW
Mojtaba Tavakoli is a PhD student at the Institute of Science and Technology Austria (ISTA) and a former refugee from Afghanistan. Together with compatriots, the neuroscientist founded the non-profit association IGASuS – Integration Through Education in 2015. Through counseling and exchange, the initiative enables Afghans to gain access to Austrian schools and universities. Now 60 members of the association are being honored for successfully completing their apprenticeship, high school or studies in the ballroom of the Austrian Academy of Sciences (ÖAW) in the presence of Minister of Justice Alma Zadić.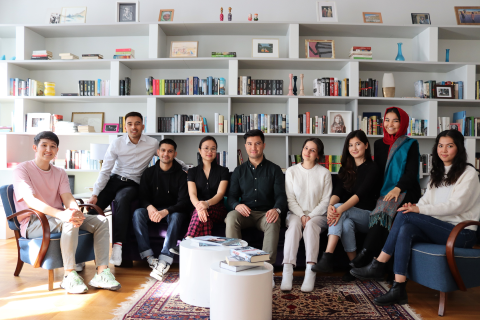 IGASuS is the Interest Group of Afghan Students and Schoolchildren. It integrates members of the Afghan community into Austrian society through education. Mojtaba Tavakoli, one of approximately 45,000 Afghans in Austria, founded the association IGASuS in 2015 with fellow volunteers. Since then, IGASuS has enabled hundreds of young people to gain access to Austrian schools, educational facilities, and universities. This year's graduation ceremony on September 16 will honor the achievements of 60 graduates. "On the one hand, the ceremony celebrates the successes in integrating the Afghan community, but above all it is intended to motivate," Tavakoli emphasizes. "An academic education brings financial independence and strengthens democracy. In addition, the ceremony is a reminder of how important the community is to social stability and the positive impact it has on political discourse."
With its educational focus, the association would like to encourage people from Afghanistan living in Austria to think critically, especially in the light of the current developments in Afghanistan. IGASuS sees the European peace and development efforts of the post-war period as a valuable inspiration for reconstruction. In this context, the venue in the main hall of the Austrian Academy of Sciences (ÖAW) and the keynote address by Austrian Minister of Justice Alma Zadić underline the importance of education for a resilient polity.
Federal Minister Alma Zadić: "Education is the key to a self-determined life and a more socially just society. Those who have access to education have access to opportunities, prospects, and a future. Especially for people who have been uprooted, education means empowerment and is an important tool that facilitates the challenging process of arriving in a new country and a new society."
Passionate ambassador of science and research
Mojtaba Tavakoli himself experienced how important education is in the course of integration. As a refugee in Austria, he went through Austrian school and university education, which brought him all the way to Johann Danzl's research group at the Institute of Science and Technology Austria (ISTA). There, Tavakoli is currently exploring new ways to microscope molecular biology samples in greater detail, for which he has already been awarded a DOC grant in 2021. "While one part of the group consists of physicists in the field of optics who are developing microscopes with higher resolution, I am working in the other part on enlarging the samples themselves," the PhD student explains. "You can think of it sort of like this: You either use better glasses to see something, or you magnify what you want to look at. With molecules, it's necessary to leave the essential properties of the molecule unchanged in the course of this 'stretching'." To make molecules larger and thus more visible, Tavakoli uses so-called hydrogels, which are gels with long polymer chains that can bind water. Because of their compatibility and similarity to organic tissue, they are used in biomedical products such as contact lenses.
"It's like Moe is part of our research group, too," says Gaia Novarino, professor of neuroscience and Vice President for Science Education at ISTA. "He's incredibly hardworking and helpful, plus he's brimming with enthusiasm for science. And his life story is more than worth hearing – a shining example of how relevant and important science education is in a person's life path."
Be it the effects of the climate crisis or warlike conflicts, IGASuS, with its scientific and educational approach, sees itself as part of the solution in times of upheaval. ISTA President Thomas A. Henzinger: "Especially in view of these challenging times, there is a need for courageous pioneers who look at science and society in a connected way. We are more than happy to be able to train such committed young ambassadors as Mojtaba Tavakoli at our campus and support them on their successful path."
Event
Date:
Friday, September 16th, 2022
Location:
"Festsaal" of the Austrian Academy of Science (ÖAW)
Doktor-Ignaz-Seipel-Platz 2, 1010 Vienna, Austria
Start:
5:30 PM
Registration:
via office@igasus.org