June 29, 2012
IST Lecture: Stefan Hell "Nanoscopy with Focused Light"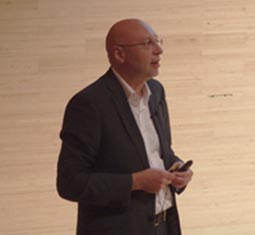 On June, 28, 2012 IST Austria had the honor to welcome Stefan Hell for his IST Lecture on "Nanoscopy with Focused Light". Prof. Hell is Director of the Max-Planck-Institute for Biophysical Chemistry in Göttingen and Head of the Optical Nanoscopy Division of the German Cancer Research Center in Heidelberg, Germany. He has received several prestigious awards for his ground-breaking work on nanoscopy, including the Innovation Award of the German President in 2006 and the Körber European Science Prize in 2011.
In his IST Lecture Stefan Hell gave an in-depth presentation on the principles of nanoscopy and its scope of applications. Fact is that, for more than a century, it was firmly believed that the diffraction of light precludes lens-based microscopes from separating details smaller than 200nm. In the 1990's the German physicist broke the barrier, successfully demonstrating that it is possible to resolve structures on the nanometer scale using the basic state transitions in a fluorophore. His Stimulated Emitted Depletion (STED) method forms the basis of all fluorescence microscopes and is now widely used in the life sciences for observing cells and molecules.
Stefan Hell's IST Lecture at the Raiffeisen Lecture Hall drew more than 100 visitors. His thought-provoking talk triggered a lively discussion among the audience.