April 5, 2014
"Long Night of Research" at IST Austria
IST Austria is regional location for "Long Night of Research" • 500 visitors learn about findings of eight scientific institutions from Lower Austria • event whets appetite for Open Campus on May 25, 2014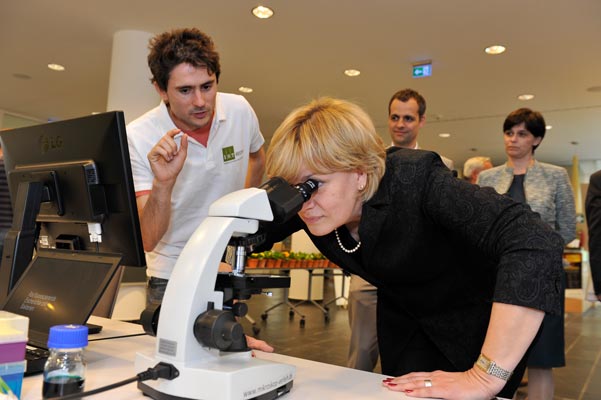 The campus was buzzing with excitement until midnight: On April 4, the "Long Night of Research" was successfully held at the Institute of Science and Technology Austria (IST Austria) from 4:30pm to 12:00pm. 500 visitors were drawn to the research institute in Klosterneuburg to learn about the findings of eight scientific institutions from Lower Austria. The varied program included presentations, talks and films.
After Managing Director Georg Schneider officially opened the "Long Night of Research" in the Raiffeisen Lecture Hall, Barbara Schwarz as representative of the government of Lower Austria took a tour through the exhibition in the Central Building. She thanked the employees of the scientific institutions for participating in the event and emphasized the growing significance of science and research in Lower Austria.
Visitors could find out more about science at 15 research stations. In addition, scientists gave half-hour talks about their fields of research. To round off, films on topics in science and research were shown in the Raiffeisen Lecture Hall.
The "Long Night of Research" at IST Austria was an appetizer for the Open Campus on May 25, 2014, when the institute in Klosterneuburg organizes a research party to celebrate its 5th anniversary. The program includes the award ceremony for the best projects of this year's school competition, a family lecture, a kids' program and the popular lab tours.