April 19, 2023
A New Innovation Ecosystem
The newly launched xista ecosystem enables innovative technology transfer
Scientists at the Institute of Science and Technology Austria (ISTA) explore the quantum realm of the tiniest of particles, map the intricate pathways of the brain, and create new digital models of the world. Yet, this kind of fundamental research also needs translation into applications to impact society and the world. The newly launched xista innovation ecosystem provides a fruitful environment for ISTA and beyond, where new ideas and companies flourish.
xista unifies all aspects needed for successful innovation. It supports researchers from the inception and development of an idea for a new technology and its commercialization to founding and financing a company. Not only working with ISTA scientists, xista will also become a new European hotspot for innovation. Like its precursor organization, it relies on three pillars to support innovation and commercialization of technologies.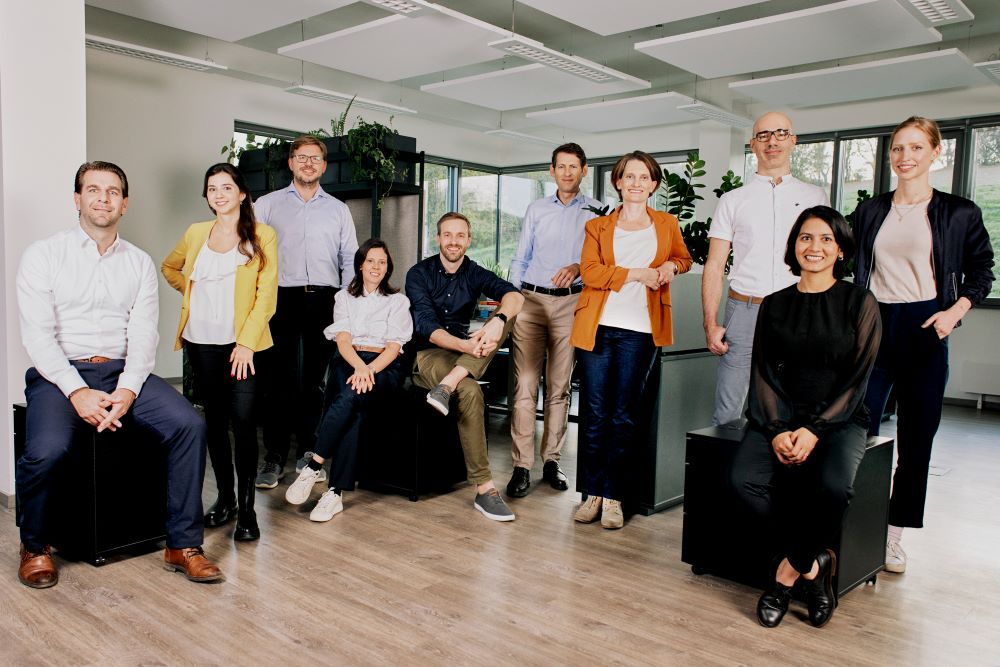 xista innovation
Researchers are highly trained in their respective fields; however, they often need support from experts in the business world. xista innovation is a company dedicated to commercializing research, building links to industry, and training the next generation of scientific entrepreneurs. It has already produced several start-ups working to commercialize ISTA research in areas ranging from AI architecture to sustainable blockchains, and neurological therapeutics. Research collaborations also include a multi-year joint research effort with Boehringer Ingelheim in the field of medical genomics. Most recently, xista innovation has launched XBIO, a joint training program for aspiring biotech entrepreneurs bringing together the major life science institutions in Vienna.
xista science ventures
Once an idea for a new technology has been formed and developed, successful commercialization requires funding to kick-start a new company. xista science ventures is a venture capital fund providing investments, expertise, and networks to help science-based companies grow. Its first fund—formerly known as IST cube—raised 45 million euro in 2021 from around thirty private and public investors and has so far backed fourteen spin-off companies from various Austrian research institutions. Collectively, these companies now have over 120 million euro available in capital and employ more than 250 people. These include Ribbon Biolabs, a provider of long synthetic DNA, Sarcura, a company dedicated to improving delivery of cell therapies, and prewave, a supply chain monitoring platform. Building on the success of its first fund, xista science ventures is now preparing the launch of its second fund.
xista science park
A science-based company requires space to do research and needs close contact with researchers and their institutions. xista science park is a joint venture of ISTA and ecoplus and provides infrastructure as well as lab space for start-ups. These companies have particular needs like access to state-of-the-art scientific infrastructure and skilled operating teams. xista science park operates two dedicated buildings adjacent to the ISTA campus with fully equipped molecular biology labs, and it also facilitates access to the Institute's infrastructure. The third building is currently in development.
Successful Launch
On April 18, the xista brand was successfully launched with an event at the xista science park. Markus Wanko, managing partner at xista, who initiated the development of xista, has his eyes on the future development of xista and the whole European innovation community stating, "The journey so far has been fun, and it's just the beginning—the groundwork has been laid and with our great team of scientists, entrepreneurs, and VC investors, we will continue to grow this ecosystem into one of Europe's pre-eminent innovation hotspots."
Martin Hetzer, ISTA's new president, added, "I've been excited to assume my new position as ISTA's second president. In my previous role at the Salk Institute in San Diego, I could witness firsthand the great benefits of a thriving innovation ecosystem, building on strong scientific institutions and a vibrant entrepreneurial community with strong financial and infrastructure support. I am thrilled to see this happening here as well."